Huntsville-Decatur, AL Chapter - Volunteer Night at the Botanical Gardens' Galaxy of Lights
Location
Huntsville Botanical Gardens Visitors Center, 4747 Bob Wallace Ave.SW, Huntsville, AL
Contact
Huntsville-Decatur, AL Chapter - Volunteer Night at the Botanical Gardens' Galaxy of Lights
Wednesday, November 29
2 Volunteer shifts between
4:30 - 8:30 pm
Huntsville Botanical Gardens Visitors Center (Gift Shop Building)
4747 Bob Wallace Ave.SW
Huntsville, AL
Join fellow MSU alumni and friends to volunteer at the Huntsville Botanical Garden Galaxy of Lights! The chapter has participated in this holiday event for many years and it is been a fun community service tradition for our Bulldog faithful!
Please Sign up for a shift via Google Form:
https://forms.gle/2pqRBDhXPCCnsfPw5
4:30 - 6:30 pm
6:30 – 8:30 pm
Volunteers are needed for directing traffic, collecting admission money and counting cars. We operate in shifts so volunteers can go inside to eat and warm up. There is a place to change clothes for those who come straight from work. Lots of food, warm drinks and MSU friends. Food, snacks and drinks are always welcome to share with the volunteers.
Rain or shine so dress appropriately.
Upon exit you will have the opportunity to drive through the spectacular holiday lights.
For more information, send an email to Savannah Metz at smetz95@gmail.com.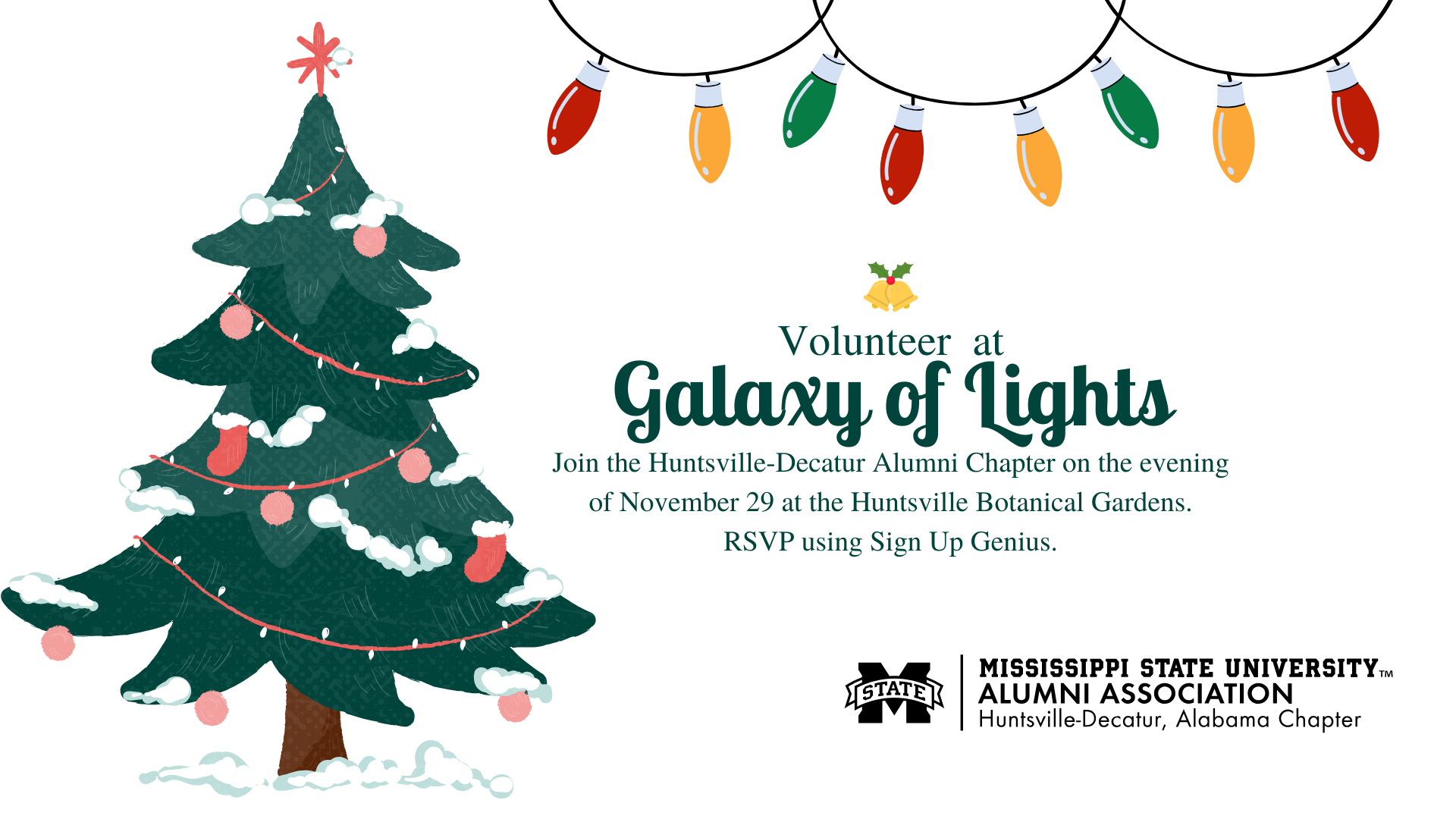 Facebook Event Page
Chapter Web page
Facebook
Instagram